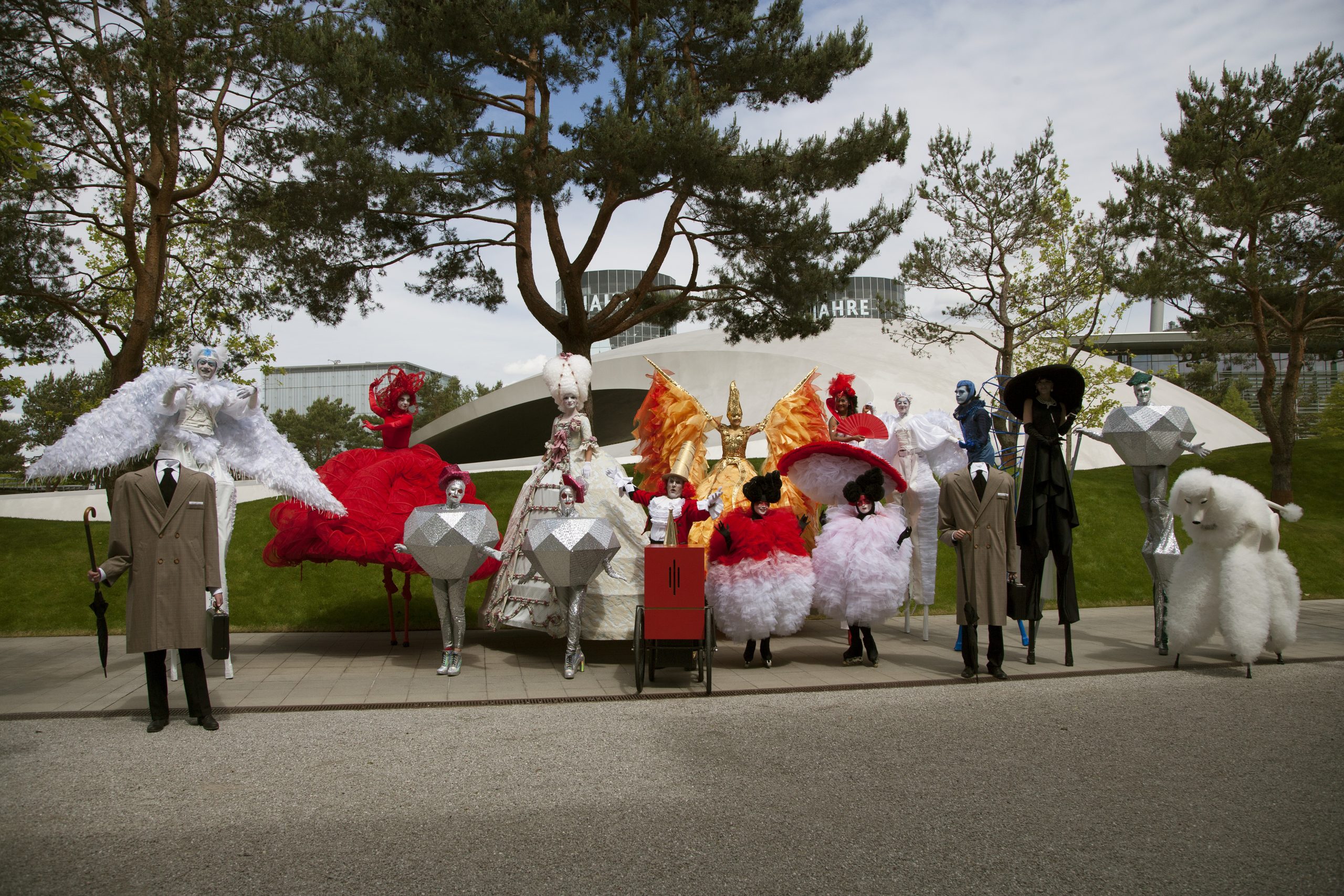 WALK ACTS & STILT WALKERS:
& WALKING ACTS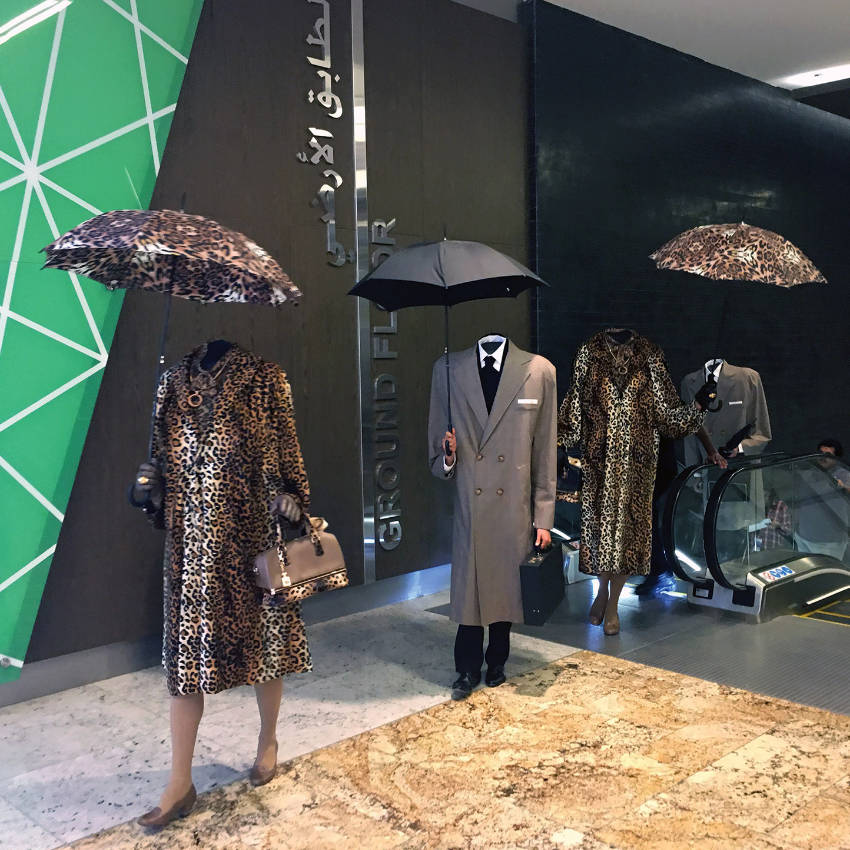 Halloween – Schaurig / Absurd – Auf dieser Seite finden Sie eine Übersicht beliebter Halloween-Walk…
Stilt walkers
What is a stilt walker?
Stilt walking is very popular with young and old all over the world. Playfully, walking around on extended leg constructions is understood as stilt walking. Stilt walkers reach a height of several metres. Our stilt walkers walk on stilts with a height of 1.20 metres and thus reach a height of approx. 3-4 metres, depending on the stilt costume. You will find stilt walkers at parties, festive events and at large and small festivals. There, stilt walkers in great costumes often attract a lot of attention. The costumes of the stilt walkers are often themed, for example related to the seasons or Christmas.
Booking stilt walkers for events of all kinds
Would you like to create a visual highlight at your event and are looking for the ideal eye-catcher? Then you have come to the right place. When you book our stilt walkers, we guarantee great attention. We have a large pool of professional stilt walkers with a special quality of movement, as well as a very large repertoire of extremely high-quality and unusual costumes for our stilt walkers and walking acts.
You can book our stilt walkers for a variety of events. These include small events such as receptions or parties to large events such as festivals with several thousand people. You can book stilt walkers for performances outside Berlin from 2 stilt walkers up to large formations and parades with up to 30 actors. You can also book our stilt walkers for commercials and video productions. For example, the stilt walkers of the Dulce Compania could be seen in commercials for Jägermeister and Sparkasse. Our stilt theatre is constantly on the road and has been a guest at many national and international festivals, which we will discuss below. In 2008 and 2010 we took part with our stilt walkers in one of the largest Carnivals of Cultures in Europe at the time in Berlin (approx. 1 million visitors), taking 1st and 2nd place respectively as the overall formation. Karneval der Kulturen in Europa in Berlin (ca. 1 Mio. Besucher) teilgenommen und dabei jeweils den 1. und 2. Platz als Gesamtformation teilgenommen.
Booking stilt walkers - your advantages
When you book one or more stilt walkers with us for your event, you can be sure that your event will leave a lasting impression. We have a first-class repertoire of extraordinary and absolutely high-quality costumes that are quite unique in this form. Our stilt walkers will make your event stand out from the rest. In some cases, our stilt walkers and walking acts have additional skills such as juggling or lighting and music, which means that they cover a large part of the entertainment. The range of stilt walkers in Germany is certainly not small, but it is all the more difficult to find the right act for your event. Not every act fits every event. Therefore, rely on our experience of almost 20 years and benefit from our extensive portfolio of special stilt walkers and walk acts. You want to book a stilt walker today? No problem! Contact us by email at booking@dulce-compania.com or call us on +49176 76782760 and benefit from professional advice and direct contact. Your event is in good hands with us! booking@dulce-compania.com oder rufen Sie uns an unter 0176 76782760 und profitieren Sie von professioneller Beratung und einem direkten Kontakt. Ihre Veranstaltung ist bei uns in guten Händen!
Booking stilt walkers - Shopping centre
We have a wide range of themed costumes and can book stilt walkers to suit your event. Click here (https://www.dulce-compania.com/stelzenlaeufer-walk-acts/) and get an overview of the variety of our theme-specific stilt walkers and walking acts.
Stilt walker fee / Stilt walker costs / Rent a stilt walker
If you want to hire stilt walkers, the first question is often "How much is the stilt walker fee?" or "How much do the stilt walkers cost?"
This depends on different parameters: How many stilt walkers or walking acts do you want to book and for how many days of use? Where will the event take place? Etc.
If you want to hire stilt walkers or book stilt walkers, please contact us.
We will make you an offer and quote you the fee for stilt walkers or stilt walkers.
Stilt walkers Corona
The topic of Corona has kept us eminently busy over the past 1.5 years and has resulted in a partial occupational ban. We have reacted to this and designed our costumes and props to be corona-compliant. Our stilt walkers are already corona-conform per se due to their height of 3-4 metres and their sometimes very expansive dresses. In addition, we have equipped the stilt walkers and walking acts with masks to ensure the greatest possible safety for the audience and customers and to comply with the corresponding Corona regulations. So you can book stilt walkers who are not only safe, but real eye-catchers to boot.
Our costumes for stilt walkers and walking acts
We have an incredibly large repertoire of stilt costumes for a wide variety of themes. Our spectrum covers the complete range of themes. You can book stilt walkers for festive receptions and gala events. The corresponding costumes are all handmade, sometimes over months, using very precious materials. But you will also find a variety of costumes for parties and street theatre festivals.
Over the years, real favourites have emerged for our customers. These include in particular the Regenbogen Ballett – eine Hommage an das Triadische Ballett des Bauhauses der zwanziger Jahre. Die in 2016 entstandene Open Air Produktion ist unser Zeichen für Vielfalt und Toleranz und basiert auf der korrespondierenden Beziehung zwischen Figur und Raum. Grundlegend ist die dreifache Ordnung, die sich widerspiegelt in der Anzahl der Darsteller – 3 Stelzenläufer und 3 Akteure auf Freehand-Segways.
Das Regenbogen Ballett ist eine Mischung aus elbendender Installation und konzeptioneller Performance. Pure Lebensfreude und Positivität!
Manufacturing of costumes and props for our stilt walkers and walking acts
The production of costumes and props for our stilt walkers and walking acts takes place in our own workshops and partly also in workshops of our partners. Over the years, a professional network of partners has developed that creates the fascinating worlds for our stilt walkers and walking acts with and for us.
Booking stilt walkers - international
Dulce Compania stands for openness and tolerance and is as diverse and international as its team. The actors and stilt walkers come from all over the world: Germany, Chile, Brazil, New Zealand, Japan, USA, Spain, Italy, Portugal, Finland, Switzerland, Croatia, etc....
Our stilt walkers and walking acts perform internationally. In different formations with up to 25 people, we have been in action for major events such as the National Assembly in Chile, the Bahrain International Circuit, but also at festivals around the globe such as China, Russia, Thailand, Romania, England, the Netherlands and many more.
Booking stilt walkers - national
The majority of our performances are national. As a rule, customers want to book stilt walkers for specific themes, for example under the following premises:
Booking stilt walkers New Year's Eve
Stilt-walker booking Valentine's Day
Stilt-walker booking Easter
Stilt-walker booking spring
Stilt walker booking summer
Stilt walker booking Halloween
Stilt walker booking Christmas
Stilt walker booking festival
Stilt walker booking corporate event
Stilt walker booking company event
Stilt walker booking city festival
Stelzenläufer buchen Verkaufsoffener Sonntag
Stilt walking / stilt walkers - A historical overview
The activity of stilt walking dates back to the Middle Ages. In Europe, it has always been used for popular amusement at markets and festivals à la couleur. In addition to being used to entertain people, stilt walkers also had an importance in terms of accomplishing work at lofty heights or overcoming swampy terrain. As stilt walkers, they could guard cattle, cross canals or, as in England, attach hops to wire frames. The stilts were up to 4 metres high. In other countries, stilt walkers were in demand for fruit harvesting, window cleaning, roofing work or ceiling painting. In some West African countries, stilt walkers also had ritual significance.
Even today, the ability to walk on stilts is used for handicraft work, for example painting. This work is done on so-called painter's stilts. However, these painter's stilts are not used by professional stilt walkers. Dulce Compania works with so-called point stilts with a height of 1.20 metres. Other stilt theatres, however, often work with stilts with a height of 80 centimetres.
A brief overview of types of stilts
Basically, a distinction is made between 2 types of stilts: stilts to hold on to and stilts to strap on to.
Stilts to hold on to
These are the popular children's stilts where the feet are placed on steps at a low height so that they can jump off quickly if they trip.
Stilt to strap on
There are 2 different types of stilts - point stilts and painter's stilts.
With point stilts, the stilt walker stands on a foot plate at the desired height. The stilt walker's shoes are fixed to the plate. From the foot plate, a shaft rises up to the calf. The stilt walkers' calves are fixed to this shaft. The term "point stilt" means that the stilt walker only stands on a single shaft, i.e. steps on a point.
In the case of painter's stilts, the stilt walker stands on a foot plate similar to the point stilts and the calf is fixed to the stilts. However, in this case the stilt walker stands on two shafts and with an additional foot plate on an extended foot. This results in a stable stance that allows work to be carried out at height. However, acrobatic movements or an elegant gait like on point stilts is not possible for stilt walkers here.