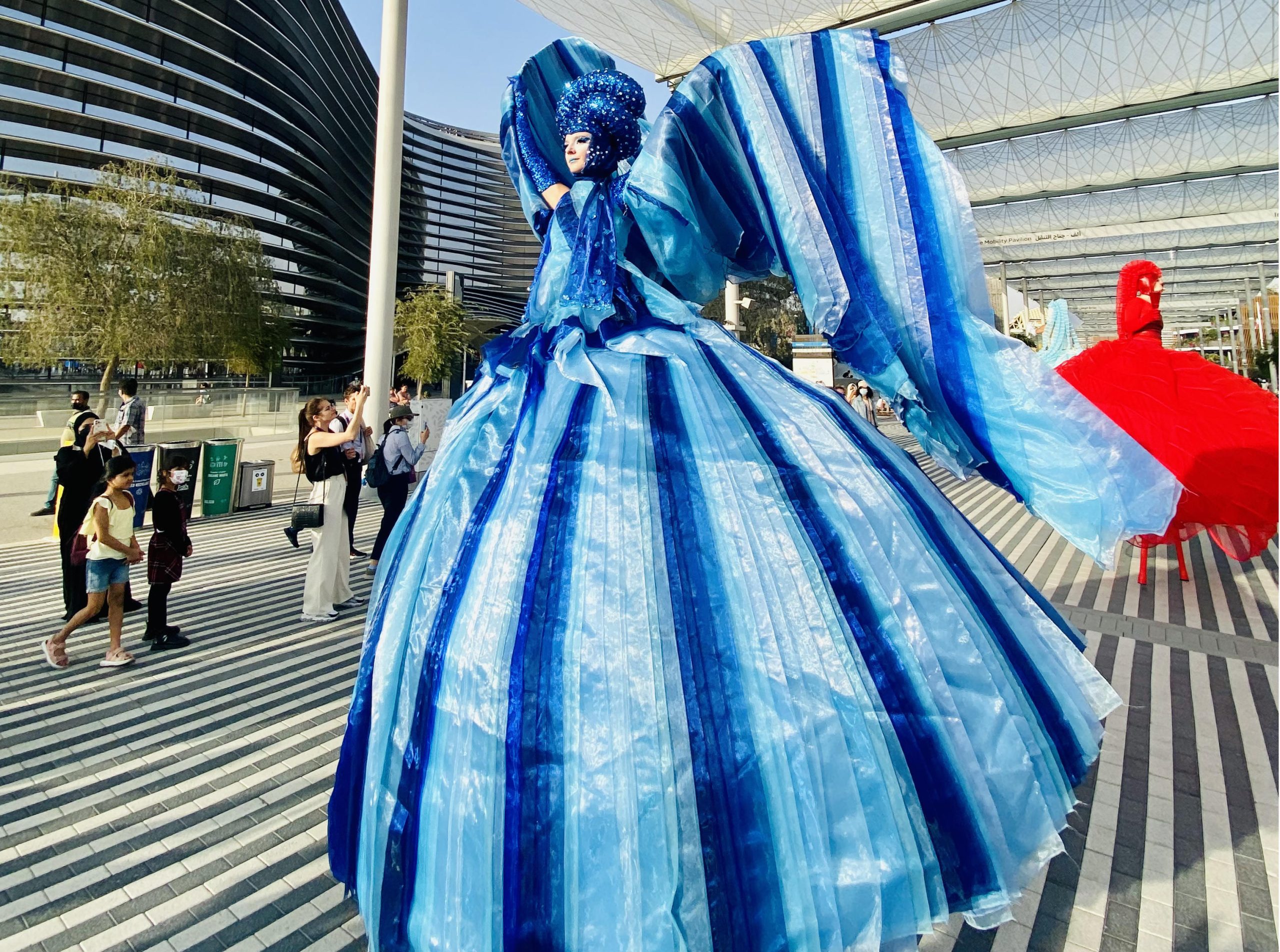 AGUA
– Stelzenläufer zum Thema Elemente –
The AGUA costume belongs to the costume series inspired by the natural elements. It's a walking act on stilts.

Similarly to the SUN, the costume is adorned with "wings" that give and extra effect and quality to the performer's movement. Unlike the SUN, the WATER's wings are less rigid, allowing the fabric to flow and give a wavy, waterfall effect. The round, almost 3m wide skirt, is layered with a light material in various shades of blue and the headpiece is adorned with rhinestones that mimic reflecting waterdrops.

This is another stilt walk-act that mesmerises children as much as adults and passes perfectly in events themed around nature and the environment, especially outdoors.

It works well as a stand-alone image to create an impactful background for entry situations such as:

- Gala events
• Red Carpet
• Charity events
• Corporate events

and as a dynamic figure for:

• Parades
• Music festivals
• street theatre festivals
• Walk Acts for large-scale events

AGUA can be booked as an individual figure or in combination with other costumes. We would recommend the following:
• Queens of the Elements: The Sun – The Nature – The water
• The Dulce Queens: The Sun – The Nature – Agua – Queens of Colours
• Water - Aquarius

These are our suggestions based on concepts successfully presented on numerous events. Nevertheless, we offer individually tailored, and unique event experiences.
It´s available for nation-wide events in Germany as well as international events.
The recommended time frame for The Agua walk act is 1 hour and 30 minutes that can be played either as one full set, two 45-minute sets or three 30-minute sets.
For preparation, the performers are required a minimum of 2 hours' time prior to the event's beginning, and an elevated surface where the stilts can be put on.