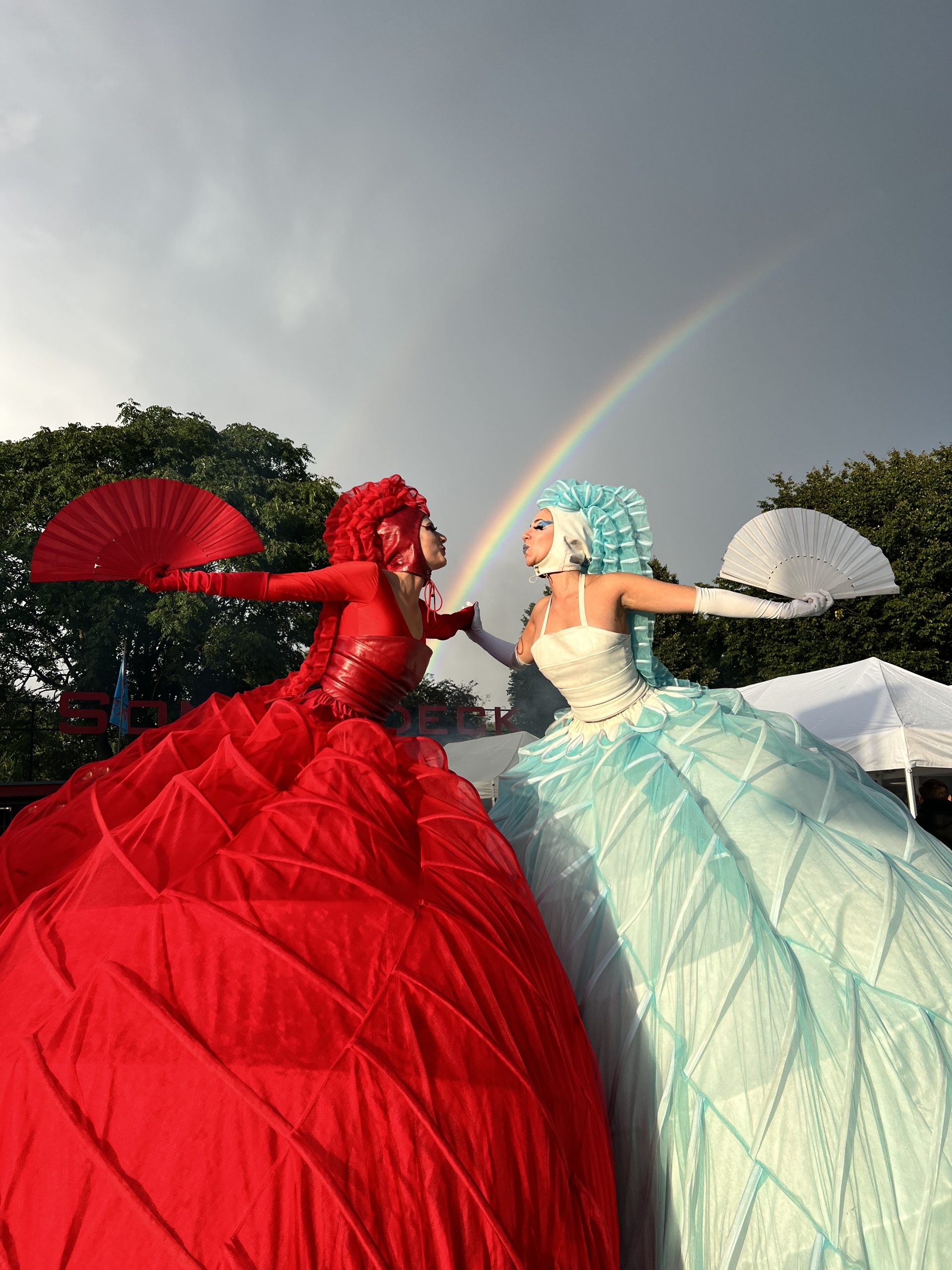 WHITE QUEEN
(Stilt walker of the ensemble Colour Queens)
The WHITE QUEEN is the RED QUEENS' cool and composed younger sister. White is considered the colour that evokes ideas of purity, simplicity, and freshness. The concept of the "colour Queens" is inspired in the effect of colour on our perception of characters and dynamic and this is what our performers convey through movement. The monochrome design of the costume is the same as the Red Queen; a large crinoline covered in diagonal, sheer, cone-like decorations, a corset, and a futuristic mohawk headpiece. 
The White Queens is an adaptable costume that goes well with almost any event theme. This is due to its simplicity and elegance, the colour being unintrusive to the eye, yet impactful.
It works well as a stand-alone image to create an impactful background for entry situations such as:

- Gala events
• Red Carpet
• Charity events
• Corporate events

and as a dynamic figure for:

• Parades
• Music festivals
• street theatre festivals
• Walk Acts for large-scale events

THE WHITE QUEEN can be booked as an individual figure or in combination with other costumes. We would recommend the following:

• The Dulce Queens: The Sun – The Nature – Agua – Queens of Colours
Glowing Angels Circus Parade
• Christmas Parade
• White Queen & Glowing Pumpulas
• White Queen as Snow Queen & Faun mit Rikscha
• White Queen & Mirror Alien

These are our suggestions based on concepts successfully presented on numerous events. Nevertheless, we offer individually tailored, and unique event experiences.
It´s available for booking at nation-wide events in Germany as well as international events. The recommended time frame for The White Queen walk act is 1 hour and 30 minutes that can be played either as one full set, two 45-minute sets or three 30-minute sets. For preparation, the performers are required a minimum of 2 hours' time prior to the event's beginning, and an elevated surface where the stilts can be put on.